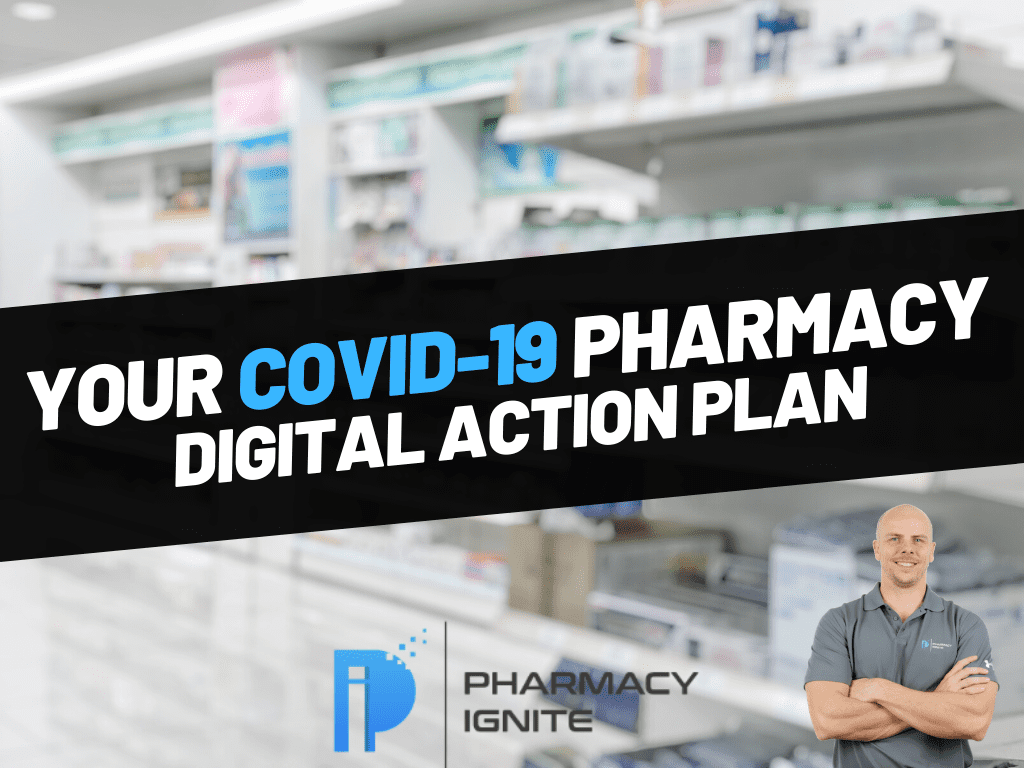 COVID-19 Digital Action Plan for Independent Pharmacies
March 25, 2020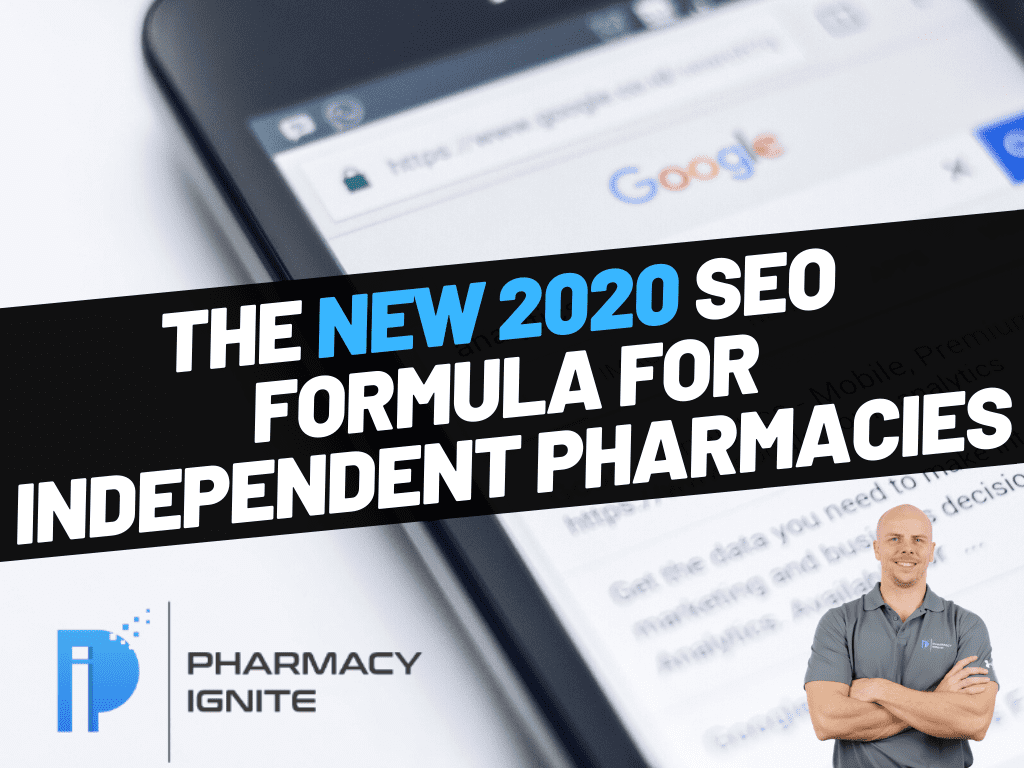 [WEBINAR] The NEW 2020 SEO Formula for Independent Pharmacies
May 29, 2020
This is a repeat of the webinar we ran at the end of March but people have requested we run it again! On this live webinar, I'll be going deep on the current issue of the COVID-19 Pandemic and how your pharmacy should be handling it online. I'll be sharing our step by step action plan and walk you through what we are doing with our current clients to be sure they provide the most value and information to their patient and customers.
0:00
Welcome to the pharmacy marketing profits podcast, the show that reveals how to take your independent pharmacy to the next level, hear from professionals in the industry as they share their stories of success and inspire you. You'll also discover how to attract more customers with effective digital marketing strategies. here's your host, Shane Gebhards.
0:19
Well, let's go ahead and dive in. I'm glad to see everyone on here. Glad you could set aside the time and be with us here. So this is your COVID-19 pharmacy digital action plan. So this is actually a the second time we've run through this this webinar. We did it I think a week and a half ago and it was really well received we had a lot of people on a lot of follow up questions, a lot of people asking specific stuff. So you know, I talked to talk to my team and we thought maybe it'd be a good idea to do it again. Considering what's going on, you know, the the issue situations, you know, evolving every day. As we all know, things are changing daily, arguably even hourly
1:00
So, this is this is a webinar we put together and we do these every month for anyone who's kind of new to us. We do these every month on different topics. So, you know, January we did January in February, we did
1:14
you know, your your pharmacy digital marketing plan for the year. And then obviously with what is kind of transpired with this, we kind of shifted, we did one about SEO and one about websites and stuff like that. So we usually pick a different topic, but with the pandemic being being what it is, and, and, and front and center, we figured this would be a good opportunity to kind of go through what we're doing for our clients when it comes to their websites and their digital assets. And, and then how you guys can take this action plan and kind of run with it yourselves and implement it and and get it in place. So So we'll go ahead and dive right in. So let me make sure my mouse is working here. There we go. Alright, so a few housekeeping things. You know, turn off your cell phone
2:00
Unless you're using it to listen in, or be on a meeting on obviously, don't turn it off. But if you're if you're on a laptop or desktop, turn off your cell phones, you know, silence those be here for the next you know, 4560 minutes just to get the information that's that's really going to help you get some clarity when it comes to how to kind of tackle this, you know,
2:18
on the digital side, you know, everybody, you know, being essential, you know, pharmacies are essential, you're all still open, you're still doing business, you know, but I'm gonna we're gonna kind of walk through the the ins and outs of what to do with your digital side of this and how to keep your your customers in the know in the loop and make sure everyone's getting the information they need, because that's really the most important thing you know, when it comes to this is just getting the right information. So and you know, pharmacies are very trusted, trusted resource that people look to for for information when it comes to stuff like this. So you want to make sure you're you're putting out the right information for everyone. So, so that was just a few housekeeping things. Obviously. Why are we here? The COVID-19 or Coronavirus is
3:00
Front and center, we all need an action plan. You know, when it comes to everything, you know, you need an action plan. But obviously, especially for this, you know, like I kind of just mentioned, everybody's looking for answers, they're always looking for, you know, the guidance and best course of action. So, I want to make it very clear, though, that the messaging here is we're not looking to profit or, you know, slash market, the pharmacy off of this and come off in a negative way or look like it's trying to, to be a profit off of a pandemic, or profit at other people's, you know, misfortunes or anything like that. So I want to make that very clear. It's doing this and what we kind of walked through is going to going to shift that away from that, if that's even being presented.
3:44
It's rather be it you know, we want to be a trusted resource for people when they need the information, right? We want to be that hub of information for people so that they can can get the information they need and be be confident in the information as well. So we want to be very clear about that. Very
4:00
clear about the messaging that we're not looking to profit off of this or appear to be profiting off of this, but rather be, you know, a trusted resource. Okay. And we don't know how long this is going to last at the moment. So, you know, we might do this webinar and other times, and we might not do it again, I don't know, you know, I don't have the answers of how long this is gonna last either. But digitally, you know, things are changing daily, like I said, so we're, we're constantly rapidly evolving ourselves. And, you know, we're just just going with it as best we can. So we could do this another time. You know, in two weeks, maybe, you know, it could be another two or three of these webinars. I'm not sure yet, but we'll just see how it goes.
4:41
So, who am I you know, why should you listen to me when it comes to this stuff? You know, I run pharmacy ignite, which is a digital marketing agency, and we specialize in pharmacies. We work with pharmacies all over the country. So we do this day in and day out, and I'm the author of The Complete Guide to internet market.
5:00
For pharmacies, how to ignite your pharmacy growth online. So if you want a free copy of that book right now, you know, if you're looking for some reading,
5:08
it's available on Amazon, but get the free copy unless you like having the actual hard copy. You know, some people like having the book in their hand, you can get it off Amazon if you really want but I would recommend just grabbing the free version at pharmacy ignite calm, so didn't write it to you know, profit off of it. I wanted to get the information out there for you guys. So it's a complete walkthrough of everything pharmacy should be doing. And we're constantly updating that, you know, since it's digital, we can update it with the latest practices and all that so.
5:35
So that's who I am and why you should listen to me when it comes to this stuff, and like I said, this is what we do. There's a little snapshot of our website, you know, where you can see to get the book. But, you know, like I said, we work with pharmacies all over the country. This is what we do day in and day out. So we're constantly in this digital realm as far as this goes. So we're looking to help you guys in any way possible, you know, with this with this situation,
6:00
And, and how you can get the action plan together for this. Okay. So you should have gotten an email with a workbook. That's something we put together for you guys. I'll leave the screen up here for a second. So you can get that it's a short link. So it's a bitly link. So it's three lowercase a, the number six lowercase I, upper case, a U, lowercase x, uppercase v. If you go to that link, it'll take you straight to the Google Doc. And that's what we're going to be working off of for this. You can download it now and work through it with us. Or you could download it after the fact completely up to you. But we like to put the workbooks together when we do these webinars because it just kind of keeps everything uniform as far as where we're at and in the process, because there is some stuff that you guys have to think through on your end when it comes to this, this, these types of webinars. So if we need to, we can. Let me pop that in the chat for you guys, as well.
6:57
So that's three, a six
7:00
I uppercase u, x v. There you go. So, seeing grab that workbook and work through that, like said now while we're going through the webinar, or you can do it after the fact. So, Alright,
7:15
so here's just a complete overview snapshot of the action plan. It's, it's very step by step very action oriented. So it gets you in the mode of thinking about what you need to do, starting with the statement. Obviously, you know, when we did this webinar, I want to kind of preface this when we did this webinar a week and a half, two weeks ago, this was all like brand new, you know, everybody was really kind of getting into it. So I know some of the stuff you probably have already done, but I still want to reiterate it. And you can still use the same tasks and actions, but just update the message. So we'll cover that but so I'm aware that you know, a lot of you might have this already in place or have something a piece here in place or a piece there. Or you've already done something you know, such as issuing your statement.
8:00
putting that on your website and stuff like that, that's kind of step one. So, but some of the stuff beyond that, you know, I want to make sure we kind of walk through so you guys understand the best way to get the information into your, to your customers hands and how to go about that. So that's a quick snapshot of the action plan. But we're going to kind of dive into each one of these sections, one by one. So,
8:22
um, so yeah, like I said, it starts with your statement. So here's a sample statement for you. The way you want to think about this is just, you know, answer the questions that people have, right. And like I said, many of you might probably have already done this, if you have and maybe need to revise it for how things have changed. Go ahead and do that. But this is a sample statement that you can use. It's pretty generic in terms of it doesn't talk about anything specifically or any pharmacy specifically or anything like that. But just steps they're taking, you know, cleaning credit card terminals, counters, door handles, you know, if you're, if you're still letting people into your pharmacy, some people I know have stopped that
9:00
have just closed the doors and done you know, drive thru and stuff like that. So everybody's a little bit different in what they're how they're proceeding.
9:08
You know, staff members that kind of touches on that. And then what what you know what you're asking from customers, if you need to edit those, obviously, feel free to make it your own. But that's a sample statement you can kind of use to get started because we know a lot of people don't really know, you know, they know what they want to say, but don't really know how to kind of put it together. So here's a quick screenshot of how we're doing it for clients. It we're making it very clear right away, we're putting the pop up on a website, on their websites and making sure that people are seeing it, you know, right away. They actually have to click out of it because you know, it's important information that you know, a lot of people talk about how much they hate pop ups, but with something like this, it's it's good to utilize pop ups when it comes to, to getting this information in front of people. So having that that pop up front and center on the website, you know, show up on desktop and mobile so that at least they have to click out of it.
10:00
You know, kind of ensures that they're going to see that customers are going to see it. So
10:05
that's step one, create the statement. And then and then use it on all your platforms, get the website, get it on Facebook, you know, we'll, we'll keep going down the list here. But um, you know, get it on on your website with with a pop up, or you could create a page like we're going to talk about in a second and link to that page. But this is this has been really well received from the feedback we've gotten. But this is kind of an idea we came up with,
10:33
as far as creating what we're calling an update center on the website for each of our clients. So the idea here is to create a page that will remain on the website and be updated with information from credible sources like the CDC in a world health organization and whatnot, with the information about what's happening, so this is a screenshot obviously, from all the way back on March 17, but um, you know, having this
11:00
updated, you know, at this point, it doesn't really have to be daily. It could be every couple days, you know, just whenever pertinent information is coming out. But you're creating a resource, a hub on your site that people can resort back to, to get, you know, good quality information. You know, if you want to stay alive when you go to Harvard young pharmacy, comm slash update center, but just, you know, like I said, literally having updates on there
11:26
to keep people in the know, you know, we pulled stuff over directly from the CDC website. So it's from a credible source, with just, you know, the basic information that obviously everybody's aware of now. But, you know, keeping that consistent with quality messaging from credible sources is the important part here. But, but your customers will appreciate that, you know, they'll appreciate a place that they know they can go and check every couple days to see if anything's changed anything. And you can use it to make announcements as well. We have people doing that, you know, they're there.
12:00
Using their update center to announce, hey, you know, here's what the CDC just said, and also, hey, we have this in stock or we have, you know,
12:09
some, some,
12:11
you know, new items coming in, or whatever the message may be that you want to get in front of people. And then, you know, you're constantly sending people back to your website, right? So we're getting getting use out of the website even more than ever. So that's a really cool kind of tactic. But you know, create an update center on your website, so that people can can get the information they need, all from one reliable source because they know you're getting it from a reliable source and and tell people you know, we're getting this from the CDC, you know, or the or the World Health Organization, you know, that's where it's coming from. So it's not opinion or anything like that. It's coming from a credible source. So
12:48
and then there, you know, FAQs, we pulled these directly from,
12:52
from the CDC side as well. You know, these are kind of the big questions when it first kicked off. You know, obviously there's some kind of evolving as
13:00
We go. So we're going to go back and revisit this and see if there's anything that needs to be added, as far as frequently asked questions goes, but, again, think about this from the term, you know, the standpoint of, if you're getting the same questions over and over, you know, from customers, pop them in here, right? You know, give them give them access to this and give them the answers that they're looking for in one consistent spot. So if you find yourself getting the same questions a lot, this is a good way to resolve that.
13:30
So this is a big one that that we're really telling people to, to jump on. But creating a lot of video right video is, is by far the most easily consumed form of media, especially online. You know, when you write something out, that's, that's great, you know, but people will click a play button faster than anything you know, and listen to a video. So, create an announcement video with either yourself if you're the owner, the pharmacist or both, you know,
14:00
You know, create an announcement video that includes what you have in your statement, and then just, you know, reassures people that you're available and you'll be posting updates. You know, add the video to the update page on the website and post on all your social media pages. And it doesn't have to be some grand production, you know, don't overthink it. You know, just, again, get on there be transparent, you know, talk about what you're doing talk about the fact that you're getting your information from the CDC and the stuff you have in stock you know, people need this and just kind of reassure people, you know, people with with the whole self isolation and quarantine and, and all that going on, you know, people are more drawn to people than ever. And so we want to see videos of people in our community, we want to see what's, you know, how people are faring. So this video will probably be one of your most popular videos of all time. Just because of, you know, the fact that everyone's quarantine we're all self isolated. We're all away from each other, and we're all craving that interaction as much as possible. So
15:00
You know, the stats obviously, we're on zoom right now but I mean zooms almost getting a billion page views a day now, you know, it's up from like, they used to get less than 100 million now they're up around eight 900 million pageviews. And people using the platform, FaceTime, I'm I can imagine is probably skyrocketing as well. So stuff like that is just kind of key indicators that, you know, people are still wanting to communicate and hear from people so, so kind of use that in your thought process here and create an announcement video and you can do weekly videos, daily videos, I mean, you can take this and make it your own, but just run with the idea of doing more videos, right? Because it'll, it'll go over really well. People will ask questions, people will be really engaged when you post them on Facebook and Instagram and stuff like that. You'll get a lot of comments, shares, you know, so there's, there's a lot of pluses to this. But But definitely consider doing a video.
15:55
You know, right out of the gate with a basic you know, statement and an update and then
16:00
Like I said, continue to do them if that's something that you're comfortable with, you know, doing on a on a semi, you know, every other day basis or something like that with updates, right? So run with that.
16:13
You can host an AMA Ask me anything Facebook and Instagram Live again, kind of just touched on this, but
16:20
sit down and have your phone and say, you know, prefaces, so don't just go live and expect people to be on. You want to kind of set it up in terms of saying, Hey, we're going to go live, you know, kind of like I did with this webinar. You know, we're going to go live Thursday at 2pm. You know, join us have have your questions ready if you have any specific questions, but it's going to be asked me anything, you know, about Coronavirus and do a Facebook and an Instagram Live and, you know, let people you know have communication have have give people a chance to get their questions asked virtually and you know, this obviously protects you and your patients from unneeded exposure. If someone's just had a specific question but hasn't, you know taken
17:00
In the initiative to pick up the phone call or come in, you know, they can, they can feel like they can get their questions answered. And you could turn this into a weekly thing as well. Like I said, we were quickly seeing that this we don't know how long this is going to go on. So the more stuff that you can create for your customers that they can kind of rely on if they know you're going to do every Monday, a Facebook Live with updates, and they can ask questions on what's going on and what what you know, you're hearing as a pharmacist, you know, they'll appreciate that that'll go a long way. And you'll, you'll win them over if you haven't already, you know even more, right and they they won't want to go to any other pharmacy. Because, you know, there's no, there's no going back pharmacy is doing that, right. It's it's your community pharmacies, you're the ones you're the lifeblood of the community. So, you know, be out there be in front of people be in front of the community as much as possible and use it use virtual aspects for that, to accomplish that.
17:56
So next up if you are utilizing email
18:00
Marketing, continue to utilize it if you're not starting now, this is something I preached it to everybody that I talked to, but you know, start collecting emails today. You know, if you're doing doing business or your drive thru, or delivery or curbside pickup or whatever it may be, you know, find a way be innovative, find a way to get people's emails, you know, now's a good time to put something on your website that says sign up for our email newsletter, to be up, you know, kept up to date on what's going on with COVID-19 and Coronavirus, and whatnot, you know, and start collecting emails. And the reason I'll kind of explain why I'm big on this. A lot of people moved away from email. And obviously, when social blew up, they moved on to that because it was the new thing, but email has never gone anywhere. If anything. It's still one of the most reliable if not the most reliable way to get in front of people in a digital, you know, aspect. But the thing is, with an email list, the big thing is you control it, okay?
19:00
You don't control your Facebook page, your Instagram page or any of your social profiles, right? You're at the mercy of Facebook and Instagram to basically play their game, right. So whatever they want to do, if they want to limit your reach, like they did back, you know, six or seven years ago, they'll do that. And they'll force you to use the paid ads version or platform more and more back and to kind of explain that for people who aren't aware, you know, six, seven years ago, if you had 1000 followers on your Facebook page, and you made a post, just a regular post, that didn't cost you anything, you could expect, you know, 700 800 of them 70 to 80% would see the post and you know, the timeline that was in chronological order, it made sense, you know, whoever posted the, you know, two seconds ago was at the top, it doesn't work that way anymore. Now, they try to cater the Facebook feed to your actions and who you click on most. So if you've got people following you, then you know, don't always click on your posts or engage with your posts, your posts won't always be shown and so what happens is
20:00
that limits the reach down to 15 or 20%. And then what they did is they kind of forced people but all businesses
20:08
to go on to the ads platform to reach people. And so they could do something like that again, we don't know. So that's why I kind of preached, get an email list. Get Everybody any anyone that you your your customers, anyone that you're doing business with, get an email list, get them into MailChimp is one I always recommend. They give you 2000 emails for free before you even have to start paying like 2000 contacts. So you can start building that list. But that's something you'll always control. You'll always control that and your website. Those are the two things nobody can can alter those from you. But Facebook, Instagram, the social platforms, YouTube, all this, that's their platform, they can do whatever they want with it. So if they start changing the tune, you know, you have to just roll with it and play ball. But you know, email announcements out and videos and links to your update page out to your to your list and let them know that they can expect these and
21:00
Again, it all goes back to reliable, trustworthy information that's coming from, from good sources, right? So definitely take out a take a
21:09
page out of that book and and start doing email if you haven't already. And if you're already doing it great, keep doing more you know, if you're already using Constant Contact or you have it built into your pharmacy management system or something along those lines, keep doing it keep keep pushing the messages out. There's, there's no, you're not going to over communicate at this point with what's going on because nobody has all the information right? So everybody's constantly looking for the latest updates. And unfortunately, we all know social media can be skewed right? Anybody can make a fake headline and make it look you know, clickbait and we click on nonsense and stuff that's not real So, so people are looking for that good, reliable information. So you can be that source.
21:51
Utilize SMS messaging to get in touch with your database as well. So email and SMS, like I said, the email is probably one
22:00
The most reliable SMS get open, you know, text messages get open, I think it's like 97% open rate, right? Everybody opens a text when I get it. You know, there's a reason why political campaigns spam us with text messages because it gets opened. So, same thing, send out an SMS with the same information, links to videos back to your update page. You know, you can set up the same thing, it's the same concept essentially, as email marketing, you can go and find some software, get people you know, put put a pop up or a sign up on your website to say, Hey, you know, enter your phone number here to get put on our SMS list so you can get you know, up to the minute updates on what's going on. With something like a pandemic, people are going to sign up for that right. And then you have that list of phone numbers and that list of emails now you have two ways to get in touch with with your client, you know, your customer base, and and stay in front of them, right you're not you're not relying on the other platforms like we just talked about. So the idea is here is to introduce
23:00
That customers get the information. So if you have that, that messaging and that approach to just, you know, because people will be hesitant, you know, we're all hesitant about giving someone our cell phone number because in our emails, we don't want to get spammed to death. But with what's going on and you guys being pharmacies, and the, you know, the information right now being a pandemic and affecting people's health, you know, you can kind of see where I'm going with this, they'll connect the dots and they won't be opposed to getting the right information. So, so take this opportunity to start the email list, start the SMS list, and start building those because those are assets. Those are digital assets for you that you can keep for as long as you're in business, right and always utilize so. So definitely utilize SMS messaging. And again, if you need examples, a quick Google search you can find software that does this. And it's very inexpensive, but if you want some, some good examples, just reach out to me I'll give you some some good ones that we've used in the past and and you can check those out. So
24:01
Okay, so I kind of harped on avoiding the the social medias. But there is some stuff you do want to do on social media as well. Or not avoiding social media but not relying on social media because it's it's an uncontrollable platform in a sense, but
24:18
take advantage of right now of running ads if you're not already. And there's a few reasons for this one, I've kind of already touched on with the limited reach right your page having 1000 followers, it's only going to reach 15 to 20%. So this information is important, right? If you're putting out information that affects people's health and well being, you know, that's important information that your customers need and would appreciate you finding a way to get into their hands. Okay. So consider running a Facebook and Instagram ad campaign or multiple.
24:48
With this information, start, you know, with the announcement, you can do your video, but start and just do a very general because this affects everybody. You don't need to get crazy with the targeting. Just do a very gentle
25:00
Add that covers your, your entire hometown, you know, local area, hometown, zip code, whatever, you can kind of do it different ways. And you can do a perimeter around it like 10 miles around your, your pharmacy, or, or 20, or whatever, you know, that way, it gets everybody over the age of 18, all the way up to, you know, as old as you want men and women, you know, don't don't don't exclude anybody and, and like I said, do one that's just very general in terms of, Hey, we have an update page here, you know, and link back to your update page on your site. You know, you'll, you'll end up getting people to your site that aren't actually your customers, because they'll want the information as well. So you can, you know, kind of run with this and different ways, but, you know, you could you're going to end up getting people back to your site that are maybe a CVS customer, a Walgreens customer or something like that, or a rival you know, independent pharmacy customer, because they're not doing stuff like this right. So if you got people come back to your website,
26:00
You're going to win them over as customers, if they they know that you're the trusted resource. You know, they might come out of this switching their prescription to you or coming to you to get all their, all their supplies or whatever it may be. So take advantage of this right now. And the second reason that you want to do it is because the dollar is actually going 30% farther, almost maybe 40% at this point. And what I mean by that is, if you were spending $100 before this, and you were getting 100 clicks. Well, now you're getting 130 clicks for $100. Because
26:32
people are pulling back off the platform people are there, they're pulling, you know, tightening up in terms of and this this is not just in the pharmacy space, this is in any space when when all industries are affected, the cost per click goes down. And we're all quarantined right now, you know, point three is we're all quarantine right now. You know, you've got people who are just online who aren't normally online, right? They're they're stuck at home. They're not working
27:00
You know, so you're going to reach more people, the dollar is going to go farther. So definitely take advantage of that in terms of getting the information and getting that information into people's hands that need it right and becoming that trusted resource. Again, like we said, the whole the whole idea behind this as being that trusted resource.
27:18
I got a second bullet point on here starting to campaign using the understatement video. You could switch these out weekly,
27:25
you know to to, if you're going to do the weekly videos to keep those updated. But yeah, these are going to reach people who may or may not be your customers are already following you so so definitely take advantage of that on both Facebook and Instagram.
27:39
And guys, if you have questions, feel free to pop pop them into the chat and I can answer them as we go. Or we can circle back to them at the end. So don't don't hesitate if you have a specific question or something like that and you want me to cover
27:52
Okay, next, geo fencing. All right, so
27:56
there's a lot of different
28:00
ways you can go about this, I guess is the best way to say it. But for anyone who doesn't know about geo fencing or understand geo fencing, it's, it's a way to say that anytime someone comes into a certain radius, they could see an ad or they could be shown an advertisement in some form or fashion, right? So you can set a radius around a point. And as soon as a phone enters that, that radius, ads will start showing and, and there'll be, you know, geo targeted based on their location. Okay. So this is an extremely easy time, if you want to think about it that way to know exactly where people are, right? You're not going to have to guess at the targeting. So, you know, people are going to go to the places they're allowed to go if you're in one of the states that have issued
28:46
a lockdown of sorts.
28:48
You know, they can only go to your pharmacies, grocery stores, you know, stuff like hospitals, stuff like that. You know, so you know, they're going to be in neighborhoods so you can drill down to specific neighborhoods.
29:00
Like let's say you have a very,
29:03
very specific neighborhood near your pharmacy that you know is the eye all your ideal customers are in there like it's right around the corner. It's got all the demographics that fit what your your ideal customer profile is. You could make an ad campaign with some geo fencing that talks to them specifically. And it could say, you know, a random name of a neighborhood Millbrook, you know, or something like that. You could say, you know Millbrook residents and get their attention with an ad and talk to them specifically with geo fencing. So you can, you know, target the places that they're going to be which is at home in their neighborhood and make sure that they see your videos, see your informations know about your update center, on your website, and get them get their attention because it's never been easier with what's going on. So definitely consider geo fencing to to get the information out there and take advantage of that. Okay.
29:57
Next point continue creating content relative
30:00
To the situation. So
30:02
if you don't have a blog on your website start, and there's a lot of questions that I get about a blog. And most people here blog, they think, well, I don't want to write a blog. And they think of it in terms of like, a personal blog where you're talking about stuff that, you know, doesn't really pertain to business. That's not really what I'm talking about. I'm talking about a blog for business. And you can don't you don't have to call it blog, you could call it your news section or anything like that. But if you don't have this in place, go ahead and put this in place. And this is for a couple reasons. One, this is another way that you can create content that is pertinent to what's going on right now. So for instance, you know, you can see one here, what's the difference between the Coronavirus and the flu? That was a big, big question that was getting a lot of Google searches early on and this before people really knew what the Coronavirus was.
30:50
So we created some content around that. And so now, when people are searching that online, they're going to find these these pieces of content
30:59
and
31:00
Up on the site and up, you know reading it or really skimming through it and then we usually put a call to action at the end of the content and in this case it's going to be you know, head over to our update center to check out you know, the latest updates with Coronavirus. So, post weekly blogs you know, get somebody that's a good writer, you know, you might have a family member you might have another, you know, an employee that would love to step up and do this for you. You know, get someone to do some quick research and find out what people are asking online and a quick way to do this is if you go to Google and you type in a topic like you can type in the flu Coronavirus, whatever it is, obviously in this case we're talking about Coronavirus. If you type that in and you scroll down on the search results, there's a section called the feedback page and or the feedback section and it's it says what people are asking online. So Google is actually telling you what people are googling and you can see what is popular and what's being asked a lot and so you'll know Okay, people are asking what's the difference between the Coronavirus and the flu.
32:00
There's your topic, that's all you need to do. And so now you can write or have someone write for you
32:06
the difference and you're the one now creating the content, you're the one putting the content out, showing your expertise. And now you have something you can share on Facebook, you can share with, you know, with your email list with your text message list, you know, it gives you a reason to stay in front of people, and stay top of mind with what's going on. Because you're, you know, putting out useful content at this time, right? So continue to do that. If you're already doing it. If you're not start, you know, start putting that content out there for people so that they can rely on it. Try to make it as consistent as you can. You know, like I said, if you're going to do videos every week or Facebook Lives, do them on the same day. Same thing with content, try putting it out on the same day. So people can find some normalcy in this and get some get used to the fact that you're going to be doing that and it continues to come and
32:57
it'll provide them a sense of relief in a way if you
33:00
Think about it, because they'll be used to the fact that you're, you're there, you're you haven't gone anywhere, you know, you're still there for them. You're on the frontlines of it. You're, you're handling it day in and day out, you know, you'll, you'll get people, like I said, you'll get people to if they're not your customers, they will become your customers because of the actions you take during this, right? Because you were there for them. And that's what they're looking for. All right. So just continue creating that content.
33:27
I think this might be my final point. But I think a big thing to consider right now is creating an online store. All right, I know. I've talked with a lot of pharmacy owners and they've always debated on this if they don't have a store in place. They've always considered it. But I will preface by saying it is going to be some legwork. It's not an overnight thing. It's not just going to pop up and be poof I've got a great you know, online e commerce store that I can offer my OTC products and stuff like that. It'll take a little bit of legwork, but now is a you know, arguably one of the best
34:00
times, if not the best time ever to consider doing this because of what we're facing. So, if you have a way to get this going, I highly recommend it, I again, I can give you some resources that make this easier than just trying to figure it out on your own. But you know, set up that online store and start offering people the option to be able to buy and you ship it to them or deliver it to them. If you do that, if they're close enough to you, or
34:28
curbside pickup, again, you know, drive through, it all depends on your kind of your setup and how your your layout goes. But
34:37
now more than ever, people are looking to get what they need, you know, online as opposed to having to go out. So again, it's just another thing that you can offer, offer your customers as far as that goes. So I believe that was the last Yep, so that was the last kind of step in the action plan. And you know, if you need help implementing, if you just want to have a
35:00
Strategy Session, we call it a pharmacy acceleration session where we jump on a zoom call like this, and just talk through it and just kind of lay it out, you know, that's free of charge. We don't charge for that. But it helps people get clear and unpack, you know, what they need to do, you know, if you have some specific questions about, you know, starting the store, how to do a Facebook Live, or whatever it may be, you know, we're here for you on that. Like I said, feel free to reach out, give us a call, you know, at that phone number listed there, if you go on our website, you can actually Well, there it is, I didn't have it, click one more click pharmacy ignite comm slash schedule, you can pick a time on my calendar. And we can set up a zoom call, where we just, you know, kind of map it out, hash it out, you know, walk through anything specific if you have specific questions. We pretty much do these every day with people all over the country. So take advantage of that. And if you need help implementing we're here for you.
35:54
Again, if you have questions, I'll hang out here for a little bit. But I appreciate you guys being on
36:00
Setting aside the time to be here, we are recording this. So I'll be posting that on our replay page. So you'll get a link to that. Once we get everything uploaded, I've got to download the video after this and then and then re upload it. So, again, you know, we're getting close, you know, to about 45 minutes, 4045 minutes. I don't I didn't want to make this be two hours long or anything like that, because I know everybody's busy right now. And so appreciate you guys being here. I'm not seeing any questions pop into into the chat. If you think of something after the fact you can always reach out to me it's just Shane at pharmacy, ignite calm. Feel free to shoot your questions over and and we'll go from there. So, since I'm not seeing any specific questions right now, we'll go ahead and wrap up there. I again, I appreciate you guys being here. And be on the lookout for this replay. And, and we'll talk soon. All right, thanks, guys. If you're looking for more information on how to attract more customers to your pharmacy, go to pharmacy ignite calm and schedule your FREE pharmacy acceleration.
37:00
session with marketing expert and founder Shane Gebhards. You can also join our free pharmacy marketing mastermind Facebook group to learn from other pharmacy owners and managers. If you enjoyed the podcast Be sure to subscribe and leave us a five star review.
Transcribed by https://otter.ai