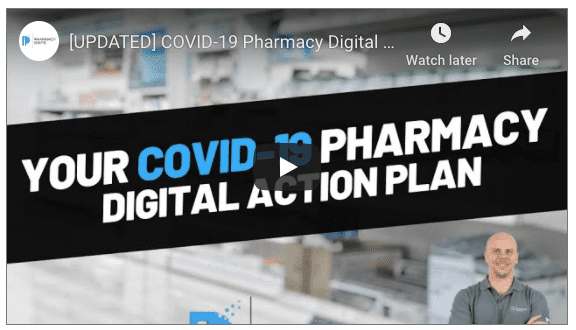 [UPDATED] COVID-19 Pharmacy Digital Action Plan April Webinar
April 10, 2020
On this NEW webinar, I'm going to cover how to set up your website, build authority, and get ranked for the most important keywords in your area.
You can use these techniques to set up your website and content strategy to win online, get your SEO strategy right, and even get ranked for the right keywords to get your phones ringing!
I'll even show you how to get ranked in your surrounding cities and suburbs!
In fact, here's just a sample of what we will cover on this breakthrough webinar:
How to get ranked for your most profitable pharmacy keywords. Hint: You need to think beyond just "pharmacy"
How to build authority so that the pages on your website rank
How to build relevant links that will move the needle in the Google search listings
Why having duplicate content on your city pages could be killing your rankings
How to communicate your "true service area" to Google automatically
What are the most important online directory listings you should be listed in?
How to get rid of bad links that could be holding your company back
What are the most important pharmacy keywords that I should be targeting?
What are the most important online review sites?
… And much more!
Transcript
0:00
Welcome to the pharmacy marketing profits podcast the show that reveals how to take your independent pharmacy to the next level hear from professionals in the industry as they share their stories of success and inspire you. You'll also discover how to attract more customers with effective digital marketing strategies. here's your host, Shane Gebhards.
0:20
Glad you guys could be here.
0:22
Welcome to the new 2020 SEO formula for independent pharmacies webinar. This is a webinar so you're part of our webinar series that we do. We usually do at least one a month on various topics.
0:35
You know, we've had quite a few done already this year, you know, being that we're in the fifth month of the year. We've done the
0:44
internet, your internet marketing plan for 2020 back in January in February, and then Coronavirus hit. So we did a couple of COVID-19 webinars. Those are available on our YouTube page and our website in our blog and
1:00
Stuff like that. So you can always go back and check those out. So, so let's dive right in. Alright, wasn't that working? There it goes. Okay. Um, so like I said, this is this is kind of like to show this graphic because this is a bigger part of the picture of what what all goes into your your digital marketing strategy. So I like to show this graphic because you can see we got website, we did a webinar on website conversion and tactics for that and things you need to be paying attention to that was one of our past webinars. So now we're working on the topic of search engine optimization. So that's the idea behind this webinar. So we're gonna dive right in and walk walk you guys through this. So a couple housekeeping things, you know, turn off your cell phones, turn off Facebook and the notifications. If you're a pharmacy owner or you manage a pharmacy, you know, and you're serious about getting better results online. The next 6990 minutes will change your business. So, so be here be in the moment, you know, take the information in, ask questions.
2:00
That's what we're here for. Because there's there's a lot, a lot of information. So I want to make sure we, we get through it. So
2:07
what we'll cover today, the latest updates with the Google algorithm. So this is an ever changing ongoing thing. They're constantly refining things, making changes, making improvements, you know, so there's always something going on. So we're gonna, we're gonna cover the latest updates with the algorithm, the things that you may have put in place in the past for your website that could be hurting you now. So like I said, this isn't always changing thing. So there's some stuff, you know, old SEO tactics. And for those that don't know, SEO is search engine optimization. So there's some old tactics that may be hurting you today. So it's important to know what those are and and take care of those and get those fixed, so that you can continue to improve your rankings and give Google what it wants. And then we're going to show you how to optimize your website using the new SEO formula based on the updated algorithm.
3:00
Okay,
3:01
so quick thing that I like to go through is for those who aren't familiar with who I am, and you know why she listened to me, you know,
3:10
my name is Shane Gebhards. I'm the founder and CEO of pharmacy Ignite. So we're a digital marketing agency that specializes in independent pharmacies. I'm the author of The Complete Guide to internet marketing for pharmacies, how to ignite your pharmacy growth online. You can find that book on our website, you can actually get it for free. The digital version, if you want the paperback version, you can go on Amazon and get it there.
3:32
I've spoken at multiple, you know, spoken multiple buying groups all over the country and you know, different conferences and stuff like that. I'm widely accepted as one of the experts in internet marketing for independent pharmacies, because like I said, that's what we do day in and day out. When we work. We currently work with pharmacy owners all over the country and their digital marketing efforts. So
3:53
we've been doing this for a while. So a big question we get and obviously the topic for today's webinar is does SEO
4:00
Still matter. And there's a lot of I guess, speculation discrepancy, however you want to word it back and forth. Is SEO even important for pharmacies? The answer is is astoundingly Yes, and SEO does still matter because there is search volume. And we'll go over that here in just a little bit. But there's people using Google and Bing to find pharmacies and find services that they need that pharmacies provide. So your pharmacy needs to be present, it needs to be showing up it needs to be getting that traffic and getting those clicks so you can win that business and ultimately, when that person as a customer, hopefully get them, you know, in there, having them fill fill their prescription with you guys, and so on. So, yes, SEO does still matter. I'm just pulled up a random, you know, search here, Jacksonville pharmacy so you can see, you know, there's ads being run on this and we'll go over that in a little bit. You can see the ad up here. You can see the this is what we
5:00
Call the map pack. And then down below, this would be what we call the organic results. So, yeah, there's basically you can look at this and say, you know, these pharmacies right here are the ones getting the majority of the clicks. So, you know, when someone does a search, and they're searching for something, they usually just tend to click on one of the first couple that they see thinking, Google is providing them the best result and that that would be the best pharmacy for them. Now, we know that's not always the case, you know, there's going to be pharmacies that show up that don't do as good a job as other pharmacies and so forth. But that's not what the end user perceives. Right? We we inherently, just think, according to Google, okay, they would put, they would put the best result in front of me. So that's what I'm going to click but that's not always the case. So you can see, like I said, this was just a random one that I decided to throw in here. But you know, I have a little tool on here, but this term right here, Jacksonville pharmacy that gets 140 people per month typing that in so all these pharmacies right here, they're the ones getting those clicks are the ones getting those phone calls.
6:00
You know if this I did this on my computer, but if this was a mobile search, you know, this would this would be the little telephone icon and people be clicking to call them. And as opposed to anyone else that's not showing up here. So you know, the cost per click on this one keyword is $4 and 30 cents. So that's what this, this person right here is paying, they're paying $4 and 30 cents every time someone clicks on their link to be at the top right here. But again, this comes with with some caveats, and a few few things that we'll cover as we get farther into this, but just wanted to kind of give you a brief explanation on how the search results page is laid out and what to be paying attention to, when it comes to this. So
6:40
71% of the clicks occur right here, okay. That's one of the latest statistics that's that's come out. It's not I should have put three arrows it's not the first and the third is the top three, the map pack. So don't think that you have to be in a or C spot and the B spot doesn't get anything it should be three our arrows but
7:00
71% of the clicks live right here. So out of that hundred and 40 people 71% are gonna are gonna stay here in the map pack. And then a further stat that I don't have on here, but 67% of the clicks will stay within the top five results. So once they get past this map pack, the next two results will get clicks as well. So, so you can see pretty astounding that the majority of the traffic, you know, stays stays here. So yes, SEO still matters, it's still very important. It needs to be a part of the strategy. Because it's, it's it needs to be part of the ongoing strategy is a better way of saying it as well because once you achieve certain rankings for your pharmacy, you can maintain those rankings for a lot less of your budget and still get the same amount of traffic. So in the long run, it becomes much cheaper than the AdWords like the top of the part. We're looking up at the top here. Let me go back.
7:56
Right here it becomes much cheaper in the long run because once you have this organic brand
8:00
If you're not paying $4 and 30 cents every single time, every single time someone clicks on your listing, right, these guys don't have to pay if I click the website button or the directions or to call or to look at their profile, but this person does. So you can see over time, it becomes much more beneficial to be in the map pack and what we call it organic rankings as opposed to paying for the traffic. But the counter to that is this takes time. So part of the strategy could be to supplement your SEO strategy with Google AdWords and to get some immediate, what we call immediate rankings until your organic rankings ketchup. Okay, so yes, SEO still matters. So the four biggest changes, let's go through these so you can no longer get away with duplicate content. Okay, so it used to be
8:50
understood that duplicate content was okay to a certain degree. It's it's slowly moving away from that more and more with each algorithm.
9:00
Now it's more about unique content on every page. And we'll dive deeper into that. But you can no longer get away with that duplicate content in the same sense that you could before. low quality links pointing back to your website could hurt you. So one of the algorithm updates before this latest one, address this, and we'll go through that as well. But we want to make sure we're getting high quality links, that makes sense. The days of being able to rank your website with just a bunch of links, and it being a numbers game are no longer the case. They need to be good quality links, and they need to be relative and have some trust behind them and all that. So we'll go into that to that as well. You need a real physical location to rank well on Google Maps. This is pretty self explanatory. In the pharmacy world. You know, everybody pretty much has a physical, real physical location. But nonetheless, it's important you know, it's, it's
9:57
it's not as easy to rank in the maps
10:00
Without that real physical location as it used to be, and what without, we'll go into that as well. And then site speed, this one gets overlooked quite a bit. But site speed is considered a ranking factor, Google looks at it, because you got to think about it in this regard. Google's job is to return the best results, and it hurts them. If they put a slow wet loading website at the top of the rankings, and people are clicking on it and getting frustrated, and constantly going back and trying another one and it hurts their overall purpose, right, they want to provide the best result. The best result is a fast website, right?
10:35
So you can no longer get away with duplicate content. Why avoid duplicate content, most pharmacies serve a semi wide radius. Lots of little cities, towns, suburbs, if you will, just depends, you know, all these cities nowadays,
10:50
depending on the size of the city have suburbs and neighborhoods and things with different addresses. So it used to be commonplace to set up pages
11:00
For each city slash suburb and keep everything the same, just basically mirror the page and duplicate it over and over again and just change, you know, the location, the city, the suburb,
11:10
that is no longer the best way to do it. And based on the numbers and everything that we're seeing now, you want to have some duplicate, duplicate, not duplicate, you want to have some unique content for each page. So don't just copy and paste, you know, the same three paragraphs onto each page and call it a different page and expect it to do well. It could still rank I'm not saying that it won't. But basically, we want we want that unique content. We don't want to keep duplicating.
11:41
Lots of guys set up microsite targeting different cities with the same content, only changing the cities along the way. Again, this is an old tactic we're moving away from this into into the new formula which we'll get into and your pages must be unique from one page to the next and from one site to the next. So you
12:00
Used to be widely known that on a local level duplicate content was not a big deal. Again, like I said, it's moving away from that. So, so we want to avoid duplicate content as much as possible and and move into the more unique side of things.
12:15
Too many irrelevant, slash low quality links pointing back to your website could actually hurt you. So, with this, what we're looking at is basically,
12:29
it used to be all about links, right? It used to be all about
12:33
just the sheer number, if you had more than the next guy, you would rank them you would outrank them based on just the sheer number, right? But that's no longer the case, the Penguin update, address that and now it's all about quality and relevant links. Like I was saying before, we want good quality links, and we want links that makes sense. It doesn't make sense for a website about cats and dogs or whatever to be linking to a pharmacy website unless Well, in that case, that's about
13:00
example that actually might be okay, because you could be talking about if your pharmacy does medication for animals, but um, for instance, you know, just pick up a scuba diving website linking back to your pharmacy website wouldn't make sense. So. So we want to make sure that the links make sense and look natural.
13:19
You're going to have to review your link profile, find the bad links, and then either have them removed or disavowed. So that's the point that I was making early on is things that you did in the past, you might have to undo it. So you might need to go in or have your your marketing company or SEO company go in and undo these links or disavow them.
13:39
And that will help you increase your rankings because Google is looking at this if they see those, those low quality irrelevant links, it could hurt you in the rankings. So so you're gonna want to get those taken care of, and you're gonna want to work to diversify your anchor text and build more high quality and relevant links. So for anchor text explanation, that's kind of a technical term. That is
14:00
text that is the actual link that people click on. So if the link says, you know,
14:08
ABC pharmacy, that's what actually gets clicked on to go to that pharmacies website. That's what's called the anchor text. Okay? So we want to have diverse anchor text, we don't want every single link pointing back to the website to be the same exact anchor text, and usually your keywords that you're going after. So if you're trying to rank for Jacksonville pharmacy, you could use that as an anchor text for some of your anchor text, you're not going to use it for all but that's sending the signal back to Google, that you're, you're a Jacksonville pharmacy, okay, so we want to make sure we diversify those and build the high quality relevant links. You need a real physical location to rank well on Google Maps. Again, like I said, this is this is pretty straightforward. But Google Maps had a major change with the Google pigeon update.
14:55
It primarily addressed the local map listings took a major toll on anyone who
15:00
was playing the game of multiple fake addresses or tried using ups stores, mailboxes, virtual offices, there's tactics, you know, that people try where, let's say a pharmacy wants to show up in like one town over and try to get some people if it's close enough coming to them, they might get a UPS mailbox or virtual office address, and say that that's a second location, and then send that traffic back to their, their, their website and try to get people over to them. So that's a tactic that we've seen before. But that, that update that that Google did, the pigeon update took a toll on that. So it's not easy to do like it used to be it's very difficult to pull that off. Now you need a real physical address in the city that you want to rank. So um, site speed matters.
15:50
A couple of years. There are an example here of of where to go you know how fast your website loads plays a role in your rankings. mobile and desktop must be considered. They if you go to Google
16:00
PageSpeed Insights, you can actually check the score and the links right down here. The easiest way to do it, since that's kind of a long link is to just type in Google PageSpeed. It'll be the first one that comes up, type in your URL right here, you'll see how fast your site is on mobile and desktop. Obviously, we're aiming for a 90 to 100 in Google's eyes. And then it'll tell you what tweaks need to be made. You can send that to your web developer or your marketing company, and they can take care of that for you. But this is this is important. We all know how fast everybody wants the information that they're trying to get how impatient we are as a society these days. So anything loading over two seconds, people get frustrated. The bounce rate is what it's called, goes up, because people are bouncing off the site pretty quickly. Because they're frustrated that they're not, they're not getting the information fast enough. So site speed definitely matters. And Google looks at this. So Google wants to showcase websites and put websites at the top of the rankings. That load
17:00
And the ideal amount of time. So we want to make sure we have ours dialed in, and and really performing like it should, so that we won a piece Google and to we appease our audience as well. So it's a two fold thing.
17:16
So what else has changed? Old Fashioned SEO is no longer effective. In the post panda pigeon penguin era, it's funny, they always use animals with their algorithm updates. It's all about user experience optimization. So Google wants us to think about what is the user of our website? What's their experience? How can we optimize that? How can we make it
17:38
a good experience for them so that they can get the information they want? Again, that's where site speed comes in site layout is a big deal, how they navigate your site, how easy is it for them to get, you know, to different pages, all this plays an important factor in how well you do online. So the new SEO approach requires a heavy focus on user experience optimization, you want to think about it in two
18:00
terms of what your user is going to going to experience. So we like to get in that mindset when we're laying sites out, and we're working on sites. And think about it from that standpoint, don't think about it, you understand things differently than your user would. So think about how easy you can make it for your user. That will go a long way. And people will appreciate that.
18:21
So let's take a look. What are the new ranking factors? A CTR is key that's click through rate. Okay. Google is looking at how many people click through to your website. That's a metric that they met, they measure you can actually look at this in Google Analytics. So it's something important to to keep in mind when, you know working on SEO working on different things and page layouts and navigation and stuff like that. So so click through rate is key, because that's a direct reflection on how well you're doing. Scroll rate is essential, are they scrolling down once they get to your homepage or your website, anything that loads on your website that they see
19:00
Without scrolling, it's called above the fold. Okay, so as soon as they start scrolling that's called below the fold. And basically, we want them to start scrolling. We want them to spend time on pages and, and interact with our website. We don't want them to just land on the website, like we were talking about earlier, see something and be like, Nah, this isn't really what I thought it was gonna be, or this isn't what I was looking for. I'm going back. We want them to interact. So time on page is a big deal. Again, Google Analytics, this is measured. You can see this in your in your analytics and your back end. So we want to make sure that we're measuring this we're keeping an eye on this and we want to increase that time on page. We want to we want them to spend more time on the website. Bounce Rate is something that I like I mentioned before, it's very important. We want to watch that very closely. Because that's a direct indication are we are we satisfying our users in terms of giving them what they're looking for? If we're not the bounce rate is going to go up and people are going to be leaving our website in big numbers because they're not getting the
20:00
information they want. And then number of citations, reviews and relevant links. So a quick breakdown on this citation is any directory or listing on the web that has your pharmacy name, phone number and address. Okay, nap in APA is what's called a citation includes that. So Facebook, Yelp, merchant circle vitals calm all of these have your your business information on them. Okay. Reviews, we all know what Google reviews are. And then relevant links, like we've been talking about, you know, those are those are new ranking factors that we look at, and PageSpeed. So we've talked about that one pretty, pretty in depth so far. So the new SEO formula, figure out what the most important keywords are based on your services, your area and what the search volume is. So just like we were looking at that screenshot at the beginning with Jacksonville pharmacy, we can see that that one keyword had 140 what we call searches or search volume, so 140 different people per month.
21:00
use that term. On average, it's not exact, but on average, to, to search for a pharmacy in Jacksonville, and that number will change just based on how you change the search term. So you could add Jacksonville, FL, for Jacksonville, Florida pharmacy, that search number could go up or down. It just depends. And this is part of the research that needs to be done to figure out, Okay, what are the most important keywords that people are using when it comes to what we do as pharmacies
21:28
in our area? And what does that search volume look like? So, a couple tools, you can use the Google Keyword Tool, word stream, SpyFu, and Google AdWords. These are all tools that you can take in there's plenty more if you go to Google and you just type in free keyword tool, or keyword research tool or something along those lines. You'll get more options than you know what to do with but there's a lot these types of tools allow you to go in and figure out okay, how many people are searching for these terms, and then it'll also give you suggestions based on what you type in. So if you
22:00
type in something like Jacksonville pharmacy, it'll show you Oh, hey, people are also searching for this, this and this. And it'll tell you how many people are searching for it. So now you know, when it comes to your SEO, what keywords you need to look at and what keywords people are using in your area, and where your customers are.
22:17
So then you're going to set up a great website with unique pages targeting those keywords, right? We're gonna have pages for each service and each city or suburb,
22:27
in the area that you that you serve. So any service you have, you should be making a page for it and and any location that you serve should be should have a page as well, because what Google wants, Google wants to show pages that are dedicated to the search term. So if the search term is pharmacy in Jacksonville, it's going to want a page that is dedicated to a pharmacy in Jacksonville. It's not going to serve up a page that's you know, pharmacy in Orlando, or anything like that. It's going to serve up what people are serving.
23:00
That's, that's what's going to rank better. All right, optimize your website for the user experience, optimize your site for SEO, on site optimization, build your authority, which is off site optimization, we'll get into that, and then track your results. You can't progress through anything in marketing or even in life without tracking the results. So that's the name of the game, you know, have analytics installed, and track the results tracker, have a Rank Tracker, which we'll look at in place as well tracking your keywords so that you know okay, I'm moving up in the rankings are going down, I need to make some tweaks, right. So we got to track the results.
23:42
So
23:43
takeaways, you know, what did you learn what you notice? If you'd like to share anything? I should have mentioned early on. We've got the chat. We've got q&a. If you have any questions as we're going Feel free to pop them in the chat. And we'll we'll certainly cover them. There's a q&a section on zoom and there's a chat section and I have both of them. Open for
24:00
Guys, so if you put anything in there I can, I can address it as we go. But definitely, you know, take some notes, you know and keep track of what we're going over here as we go through this. So um, so now we're going to take a look at pharmacy keywords and I've got some examples here for you just to kind of get the brain going. These are some of the more common ones we see there. There can be hundreds, right there's so many variations here that can come up but this is kind of a good starting point to look at. So the main thing MAIN KEYWORD obviously is your city plus pharmacy or Pharmacy Plus your city you know, it can be backwards depending on some people search but usually the keyword volume will be the same because Google looks at that as pretty much the same search. It's just flip flopped. Same thing your city plus pharmacies your city plus drugstore and you can see on the list goes here medication if you do medical equipment if you're compounding pharmacy, drugstores, plural medicine to
25:00
Delivery drive thru pharmacy, you know, that's those keyword volumes have really jumped up here, obviously, with what's been going on with COVID-19, immunisations, etc you can see where this is going but sit down and make a list of all the services you have. And then those are basically your keywords as long as along with pharmacy drugstore, you know those more general terms. Those are that's going to be your keyword list. So that's the simplest way to tackle that.
25:31
So now we're going to take a look at on site optimization. So a strong website with good content and user experience that you xo versus SEO.
25:41
We want to leverage multimedia to improve on page time. So we were talking about that time spent on your website. So a good way to do this is through video.
25:50
videos, get people to stop and watch the video they stop scrolling, you know they're gonna watch the video. So that's a great way to get people to increase their time spent on your website.
26:00
So definitely utilize video on each page, a good way to think about doing it is to have a video on the homepage, it could be a welcome video from you know, the pharmacy owner or the manager or the entire team or however you want to structure it, you could do something, you know, welcoming people to the website, each service page could have its own video where you explain how you do that service, what separates yours from the competitors, you know, really gives people a good understanding of of that service on the About Us page, you could do videos introducing each of your team members. The
26:39
you can do pharmacy walkthroughs, you know, kind of a virtual tour, if you will. So there's a there's a lot you can do to add multimedia to improve on page time. And then you can use that multimedia, obviously on SEO or on social media on YouTube on on all these different platforms as well. It's not just on your website, it can be it can be used in a lot of different ways, but it's good to have it on your website.
27:00
To increase that on page time pages for each of your services, like we talked about, with that video pages for the cities that you serve, or suburbs, so if there's some kind of suburb that's, you know, just right around the corner from you make a page for that. And, and definitely incorporate that. Because if people if that's just, you know, a couple miles up the road, you know, people, people will be searching in that suburb or that area, and you know, they can come to you. And so you want to be showing up for the search results.
27:31
You want the the unique content on every page, like we talked about in the beginning, some technical sides of this, you want your keywords in the title of your,
27:42
of your page, and the h1 is called the header. So there's h1 through h6, right? h1 is one of the headers. It's pretty much the main header that Google looks at to determine what a page is about. So having the keyword Jacksonville pharmacy, we'll stick with that example.
28:00
Having that keyword in the h1, and then the title of the page will help the on the optimization of the on page for your SEO,
28:10
the meta description. So when you Google something, the meta description is the little paragraph that you can see while you're still on Google that tells you what the page is about. That's the way to approach this is that's what sells the click right? That's what's going to get people to decide whether or not they're going to click on your website. So if your first second third 10th in the rankings, whatever it may be, they see that give them the reason as to why they should click on your link to go to your website, sell the click. So be very, very descriptive and in how you describe
28:42
you know that page and tell them you know, click on this page to learn more about us and meet our team and why we are the best pharmacy in Jacksonville or something along those lines, so sell the click.
28:54
Make sure to include the name address phone number in the footer of your website. This ties back into the citation.
29:00
That we were talking about, this sends the signal to Google, that an AP nap matches all the citations that are out there for your your business, your pharmacy. So that correlates that ties together. So we want to make sure that that's on there. And then we want to make sure we have a blog on the website with ongoing updates. So that, you know, you might have heard at some point that Google likes to see activity on websites. You know, a blog accomplishes that if you're posting to your blog once a week, or every couple times a month or once a month, whatever the frequency is,
29:31
Google's algorithms picking up on that because it has to index the content, it has to index the page, and then make sure that's getting syndicated out. So what I mean by that is, make sure make sure that that blog post is going on to your Facebook page on to your,
29:48
in your email marketing, make sure that it's getting syndicated out to all your different channels, so that your people can see it, your users can see it. And again, focus on PageSpeed for desktop and mobile. So that's the
30:00
On site stuff, that's actually the stuff that you can do on your website. That's one side of SEO. The other side of SEO is what's called off page. And we're going to look at that here in a sec.
30:10
So a live example, Hubbard young pharmacy, this is one of the pharmacies we work with that we kind of talked about a good bit, but you can see they've got that number one ranking. So just this keyword right here happens to have one of their keywords, 90 searches a month, almost a $5 cost per click. So if we were running an ad up here, it would cost him $5 every time somebody wants to click on that, but because we have the number one ranking, we're getting those clicks for nothing. So as long as we keep that you know, we're we're getting those that traffic straight to our website making making the calls choosing them to do business with right so we we want to make sure that we achieve that that top three rankings so we don't have to pay $5 a click.
30:55
So again, takeaways, again, if you have any questions, if you want me to address something, pop it into
31:00
chat pop to pop it into the q&a. If you want to share something, by all means feel free to. I'm not seeing anything, anything in there yet. So we'll just keep on rolling through. Um, so off page SEO, it's time to talk about this. Like I said, there's two sides, there's on page, all the stuff that you can actually do on your website on the page. And off page. Okay, so this is this is other items that include link building and building authority and whatnot. So first thing, we want to make sure we claim and optimize the Google My Business listing. So I'm going to go back real quick to this. This would not show up without having the Google My Business listing. That's what this is. Google has to have the listing in their, in their directory, to be able to show it, okay, so you can go to business google.com and claim that if you haven't already, you want to make sure you have control of that, not somebody else. And no, it's pretty easy. It'll walk you through it step by step and they'll send you a verification postcard and then you now own the list.
32:00
And you can optimize it. So you can control the hours the make sure the information is correct the business pharmacy hours, put photos on there, respond to your reviews, you know all that good stuff. So it's it's extremely important that we claim and optimize that for, for what Google wants. We want to get lots of citations across the web. So unlike just playing backlinks, like we were talking about where it used to be just a numbers, game, citations is still a number. It's a numbers game. We want as many good citations as we can get with correct information, correct name, address, and phone number, the more we can get, the better. Um, our typical rule of thumb for any of our clients that we work with is find all their competitors, see how many citations they have, and then do 50 more than than the next guy. So we want to make sure we always have more than the next person for our clients, just to ensure that we have a better base profile in Google's eyes. So get lots of citations across the
33:00
If you just Google top business citations, you can get a list of the Top 50 and set all those up, you know, in a day or so. So we want to build up our online reviews, leveraging, you know, best in class tools like nearby now bird eye review buzz, customer lobby podium. You know, we want to make sure we're pushing reviews to our Google My Business, because that is a ranking factor that Google looks at. So we want to make sure that we're, we're actively pushing reviews towards that. We want to build authoritative links back to your website from other websites. So these are the backlinks that we talked about with the anchor text, we want the links to be authoritative, trustworthy, and not from spammy websites or anything along those lines.
33:47
Strategic content syndication, this is I apologize if you hear some background noise a big thunderstorm just rolled in. So um, strategic content syndication. We want to make sure we're doing
34:00
Getting our content like our blog content out there syndicated like we like we talked about this builds backlinks for your your website as well if if your blog is getting published on all these different websites that I'm going to show you here in a second, those are backlinks that Google picks up on and they see that. So
34:17
a simple blog post though on your site simply won't cut it anymore. Okay, so we're going to dive into this the strategy here on how we do things and kind of what the new expectation is. So just
34:31
writing a blog and putting it on the blog and calling it a day is not is not going to cut it. Like I said, it requires a new approach. And we call this the new authority signal generation approach. So we now have access we use this cutting edge content marketing platform for authority signal generation and building EA t to achieve superior search visibility. So what this is, is basically
34:57
Google has a lot of things they're looking at and
35:00
To the algorithm has over 200 ranking factors that basically it's taking into consideration
35:09
so that it can decide, okay, whose website should be at the top. And so part of that is what we call eat expertise, authority and trust. Okay? So we want to satisfy the search algorithms for these things. So expertise is quality structured and media rich content. So authority if you're being published on ABC, CBS, Fox, NBC, etc, that's, that's providing authority and trust, we want to pass trust and PageRank with link signals, which implied trust. Okay, so over here, you can see this local pack local rank pack, excuse me local pack slash finder ranking factors. Number one is Google My Business signal. So we were just talking about Google My Business, the proximity of the searcher, the categories, you know, the key word in the business title, Link signals. So this is what we're talking about with anchor texts.
36:00
Linking domain authority linking domain quantity, review signals.
36:06
All this you can see on page signals, citation signals, behavior signals, personalization, and it just goes down the list here. But Google My Business has 25% of it links or 16% of it reviews or 15% of it as your big big factors, localized organic ranking factors. Very similar, but it's looking at link signals as almost 27% on page signals, presence of nap like we've been talking about in AP the keywords in the titles, all this stuff we've been talking about is 26%. Behavioral signals, the click through rate, the mobile clicks to call that's 11% of the of the factors. So you can see how each of these has its own piece of the pie. Each of this has its own piece of the puzzle, and we want to make sure that we're satisfying each piece to build a complete pie, right. So definitely screenshot this or I'll have a replay of this.
37:00
But that's a very important thing to consider when it comes to your SEO strategy is are you crossing off all these? These factors? Are we covering everything we need to be?
37:08
You know, when it comes to this, this is a cool thing that we have here. Sorry, I can see my dog walking behind me here. Um, the SEO periodic table quality research. There's a lot of technical stuff that goes into here, authority structure. This is just kind of a cool thing that these guys made up this little graph, but you can see this is all stuff that gets factored into
37:33
SEO rankings, you know, is Do you have an SSL on your site to HTTPS, your site speed multimedia, URLs, freshness, duplicate content, mobile friendly keywords,
37:46
you know, it all factors in
37:48
to it. So
37:51
definitely a really cool chart and something to to keep in mind. So, page quality ranking, you know, is one of the most important factors
38:00
The most important factors to consider when selecting an overall page quality ranking. The purpose of the page, like we talked about, is it relating to the keyword, the expertise, the authoritative ness, the trustworthy. So that's the eat the at
38:15
the main content quality and the amount, the website information who's responsible for the main content. And then the website reputation, again, factors into this as well. So all about expertise, authority and trust. Google wants to make sure that we're, we're giving them websites that they know they can put in the search results so that when users click on them, they get what they're looking for.
38:38
So Google uses a different algorithm for local searches, which places importance on three important ranking categories and their sporting signals. Proximity. This has become a big one over the years with mobile phones and people being being able to search stuff and being able to search it based on where they are. So how close is the place of business for the person searching using zip
39:00
codes in geo coordinates and your content, the rest, you really can't control. So the best thing you can do is make sure you have the zip code.
39:07
There's some tactics as far as you're using your photos and putting geo coordinates in it to kind of show where that photo was taken.
39:15
That kind of factors into it as well. So proximity is, is one of those signals.
39:20
relevance, how relevant is the search term for the business? Is the content optimized and the on page signals? Or is the use of business categories in the content section headings, niche citations, so again, there's different kinds of citations. Typically, you know, any citation is a good citation is kind of rule of thumb. But when we say niche citations, what we mean is vitals calm, you know, that's a niche citation because it pertains to medical, you know, you're not going to want to get citations on.
39:50
Something like a lawyers website, like avo calm is a lawyer website. There's no reason to have a citation on that because it's in a different niche. It's not in the pharmacy niche.
40:00
Right. So we want to make sure that we have the main ones, the general ones like merchant circle and all that. But we then we also want to make sure we have the niche ones that are super relevant to our category. Our